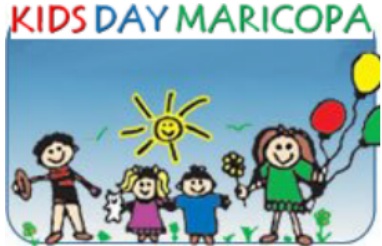 Kids Day Maricopa

September 15th, 2018 from 10 am to 4pm at Maricopa Wells Middle School - Kids Day Maricopa provides essential information on health, crime prevention, child safety, and environmental awareness. The Maricopa Police Department will be on hand to provide FREE fingerprinting of all the children and bringing Police cars, Police motorcycles and the K-9 Dog Unit. Additionally, there will be special appearances by Smokey Bear, McGruff the Crime Dog, Pikachu and other loved characters. The Maricopa Fire Department is bringing a fire truck and teach fire safety. Ak-Chin Fire will provide seatbelt safety, diabetes prevention and health awareness. Copper Sky will be teaching water safety. There will be Bicycle safety with the Lions Club, Drug Awareness with M.A.S.H., the Be Awesome Coalition, Pinal County Attorney's office & the Pinal County Sheriff's Dept. Healthy Eating and Exercise will be taught with Southwest Pediatrics & Sunlife Health. Learn how to grow your own garden with the Master Gardeners and Ace Hardware. Water education and conservation is taught by Global Water.There will be a Safety demo from ATA Karate kids. D.S.P.A., Rock Star Cheer AZ, Karate Charlie will perform, plus many more activities such as the First Tee and Southern Dunes golf program, 4H Petting zoo and so much more.


We will also provide Free Food, Free Drink and Free Balloons for everyone. There will be special Give-aways and Free prize drawings throughout the event!

The event is Free and especially exciting The AZ Coyotes " Howler" visiting, AZ Rattlers "Striker", and Wild Man Phil.
Thank you to our sponsors Ak-Chin Commuinty, Hensley Beverages, Ultra Star, Journey United Methodist Church, Global Water, Southwestern Pediatrics, M.A.C.H. Development, Bradbury Family,


Our Sponsors:
| | | |
| --- | --- | --- |
| | Click Image for Ak Chin | |